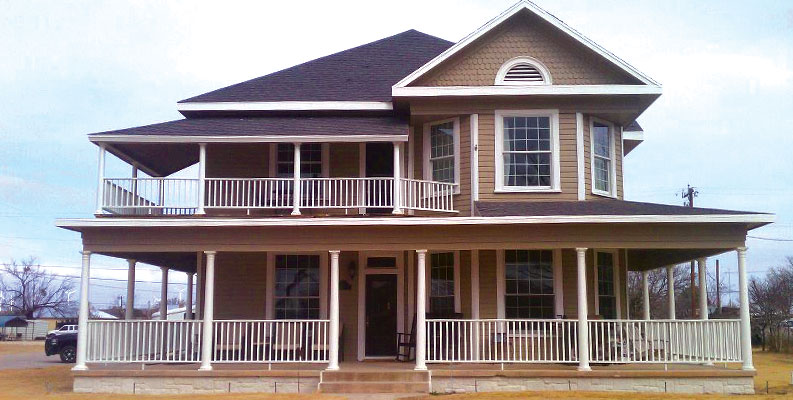 Triple Seven Custom Homes & Remodeling specializes in all areas of home renovation and remodeling in San Angelo, Texas and the surrounding area. We can do full home renovations or room by room renovations including kitchen remodeling, bathroom remodeling, custom tile and flooring, painting services, and custom cabinetry. Additionally, we also do exterior renovations and additions. As a LEED AP Certified builder, we take pride in adhering to sustainable and energy efficient building principals so that we can ensure that our projects have low environmental impact as well as saving you money on energy costs.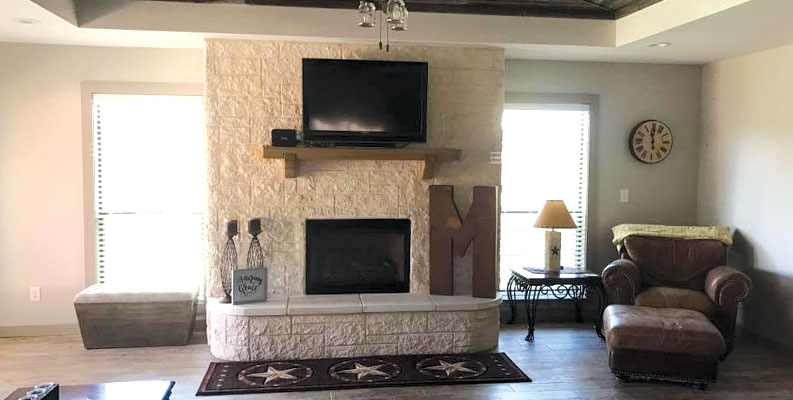 Sometimes it is only one or two rooms in the house that need renovation. But often it is necessary to update an entire home such as in the case of a new home purchase or even just a home that has not been remodelled in quite some time. Triple Seven Custom Homes & Remodeling is here to help with all of your interior and exterior renovations! One of the benefits of choosing Triple Seven for your full home renovation is that we are both fast and flexible to your schedule so that you can get the home of your dreams quickly and with minimal impact to your daily routine. We also offer the flexibility of being able to complete a full home renovation all at once or if you would prefer we can go room by room to minimize inconvenience for you and your family.
Exterior Renovation
When doing a full home renovation the exterior is just as important as the interior. Triple Seven is here to get the whole job done with window and door installation, siding, painting, masonry, outdoor lighting, decks & patios, sidewalks & driveways, garages, and detached room construction.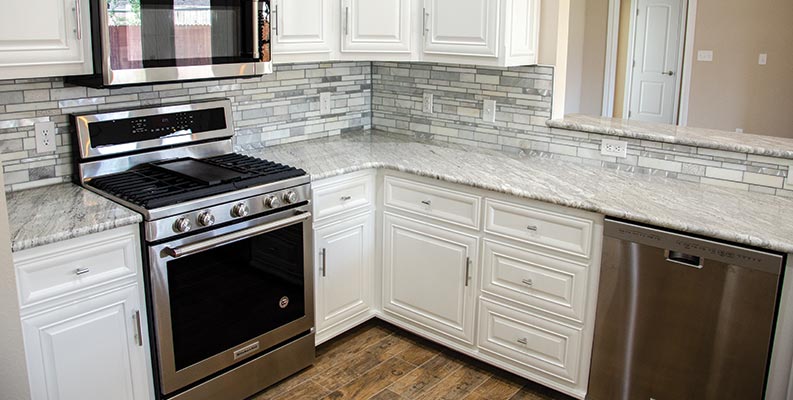 Even if you are the DIY type, consider hiring pros for your kitchen remodel. Kitchen projects can quickly get complicated and costly without a professional's expertise. At 777 Custom Homes and Remodeling, we love remodeling kitchens in San Angelo, TX, and we will share our years of experience with you.
Before getting started, consider your lifestyle and what your household needs most. Whether you need additional counterspace, more cabinets for storage, extra seating for family members and guests, or all of the above, select your must-have features.
Upgrade Your Kitchen
Replace Appliances - Get rid of old, outdated, and broken appliances. New high-end appliances can give your kitchen a more finished, expensive look.
Stay Neutral - A bold, bright color scheme may sound fun, but trends and styles change. A neutral color scheme is a better investment, especially when you decide to put your home on the market.
Create Open Space - The flow of a kitchen is very important. If the current floor plan isn't working, switch it up to create a space that looks and feels more spacious.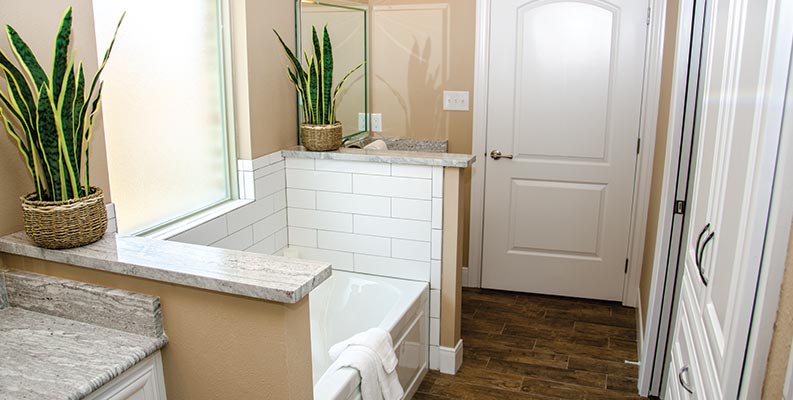 Transform your cluttered, cramped bathroom to a simple, serene sanctuary. Bathroom upgrades can really make a difference for your everyday life. A DIY project may seem easy enough, but amateur jobs often end in costly disasters. Hiring bathroom remodeling pros like us pays off.
When you invest in a home remodeling project, accomplishing your goals while sticking to your budget is key. At 777 Custom Homes and Remodeling, we take the time to sit down with our customers and go over your options and put together a remodeling plan.
Elements of Successful Bathroom Remodeling
Improved Functionality - Function is always top priority in a bathroom. When upgrading, think about how to add convenience before adding more decorative features.
Quality Pays Off - Replacing floors, cabinets, and countertops should make a major difference. If there's higher-end options, consider them. The investment is often worth it in the long run.
Staying Neutral Improves Resale - At some point, you'll put your house on the market. If your style is too personal and particular, it won't appeal to as many potential buyers. A neutral color scheme appeals to more people.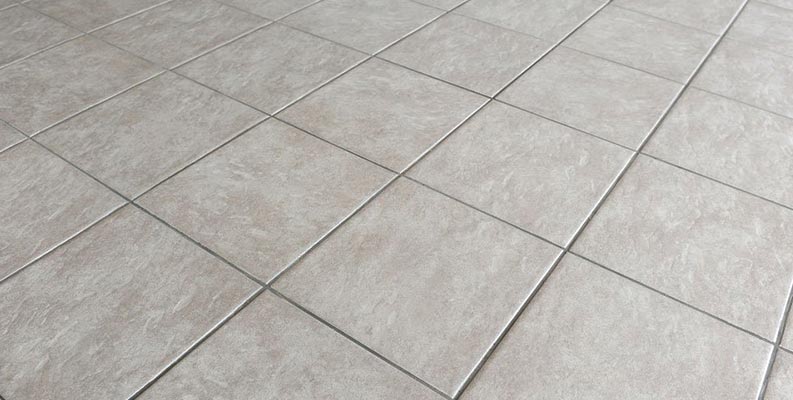 Ceramic tile comes in a variety of colors and styles, making it easy to match any home. Plus, it's durable, easy to clean, and long lasting. Installing and restoring tile isn't an easy task, so it's best left to tile experts. That's where we come in.
At 777 Custom Homes and Remodeling, we have a team that can properly install tile anywhere in your home, from your kitchen's backsplash to your bathroom's floors or your outdoor patio.
Saltillo Tile Restoration
If you love the look of rustic tile, Saltillo is a beautiful choice for your home, and unsealed Saltillo is a great option for around a swimming pool. This handmade terra-cotta tile is very difficult to install and restore, so it's a job strictly for the pros. Lucky for you, we are pros in Saltillo restoration.
Custom Flooring
New flooring can really transform a room and boost your home's overall resale value. In time, flooring shows signs of wear and tear, no matter how careful you are. If you are looking to update the flooring in your home, let us know.
At 777 Custom Homes and Remodeling, we have one of San Angelo's best teams of flooring professionals who have experience working with all types of flooring. Whether you want hardwood, tile, vinyl, or carpet, we do it all.
Hardwood - This is a classic, timeless choice that potential buyers will love. Hardwood is known for its durability, easy maintenance, and variety.
Tile - This flooring option is versatile and long lasting. With so many color and style options, it's easy to find tiles to complement any room.
Vinyl - When heavy traffic is constant, vinyl is an excellent choice. Whether it's in the kitchen or bathroom, this flooring remains durable.
Carpet - If affordability is a priority, consider carpeting. From bedrooms to living areas, carpeting adds warmth and comfort.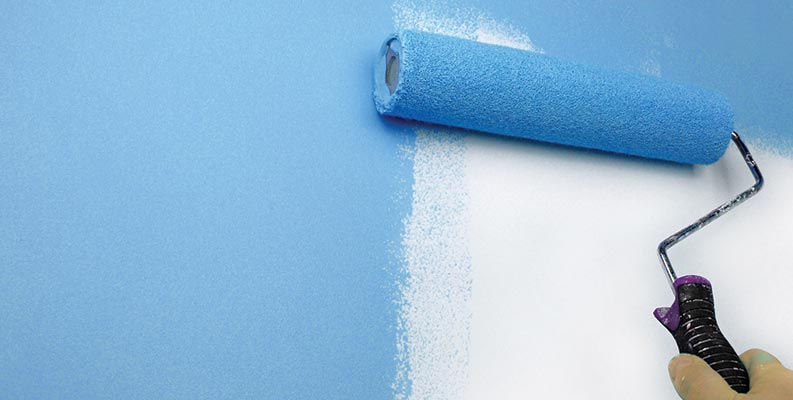 The power of a fresh coat of paint is often underestimated, even though it can boost the overall value of your home. Painting offers both aesthetic and functional advantages, when it's done professionally. We have a team of residential painting experts who can transform your home inside and out with brand-new paint.
Interior Painting
Clean & Refresh - When was the last time you cleaned your walls? If you can't remember, you aren't alone. Painting is one way to clean and refresh the walls throughout your home.
Protect Your Walls - Over time, drywall and plaster absorb moisture, which damages structural integrity. Paint seals out moisture and protects these surfaces.
Add Value - Painting is a cost-effective way to update and add value. Buyers appreciate the look of clean and well-protected walls.
Exterior Painting
Better Aesthetics - With a fresh coat of paint, you can give the exterior of your home a brand-new look.
Increased Home Value - Not every renovation project offers a significant return on your investment, but a recent paint job will.
Improved Curb Appeal - When neighbors and friends see the exterior of your home, they'll notice the professional paint job.
Added Protection - Rain, wind, and even snow can be harsh on your home. Paint provides a protective shield for your house.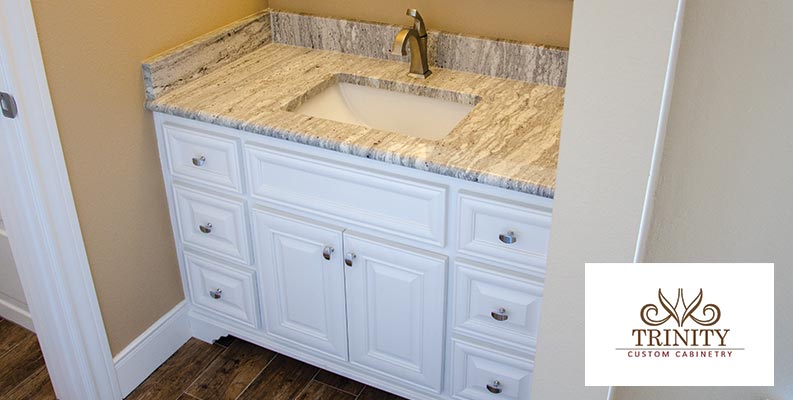 If you are about to start a remodeling project in your home, why not add custom cabinets to match the décor of your kitchens or bathrooms? Our sister company, Trinity Custom Cabinetry, is one of San Angelo's most experienced custom cabinet builders and can build and install cabinets right alongside any remodeling project.
Learn More About Custom Cabinets